Reply
Topic Options
Mark Topic as New

Mark Topic as Read

Float this Topic to the Top

Bookmark

Subscribe
Posts: 3,643
Topics: 435
Kudos: 215
Blog Posts: 306
Solutions: 85
8 Tips for Success with Google+
Options
Mark as New

Bookmark

Subscribe

Email to a Friend
‎12-01-2011 08:08 PM

John Haydon of Socialbrite has some great information for you to be truly successful using Google Plus business pages. These top 8 tips are taken directly from the article which also has some great information if you're wondering what the difference is between Facebook Pages and Google Plus. So definitely read the full article.
8 tips for success with Google Plus Pages
Create an awesome "About tab"
1Make it useful, compelling and memorable for visitors. Marc observes that many Google Plus users decide whether or not to put you in a circle based on your About section.
Use an attractive main image
2It goes without saying that your main image on your Google Plus business page is what will create the first impression for visitors. So make it count.
Turn your avatar into a gallery
3One thing that's amazing about Google Plus Pages is that you can upload multiple photos for the main avatar. This creates sort of a photo flip-book like I did with the Inbound Zombie Google Plus Page (click on the main image to see this effect). Organizations can use this in a number of ways. For example, the Humane Society could upload a lot more cat pictures.
Seek to help your clients/customers/donors
4Don't just use Google Plus to promote your own organization. Chris Brogan observed: "Brand pages are now open on Google+. Funny thing is, most of them seem set up to brag, not to honor their community."
Search for conversations around your cause
5Comment on those conversations as appropriate. Support other people's agendas before your own.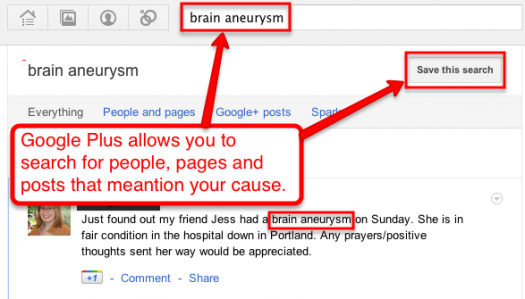 Hangout
6One of the best Google Plus features is Hangouts, where organizations can connect with fans, volunteers and donors in a video conference. Hangouts allow for up to 10 people at a time and you can collaborate on shared documents or just have a casual chat. Read more tips about Hangouts from Nathan.
Do stuff with others
7It can get complicated, especially because Google has a habit of tossing new features out to users to see how they'll respond. Below is the three of us writing this post live, real time, together. We ended up learning a lot from each other simply by doing stuff.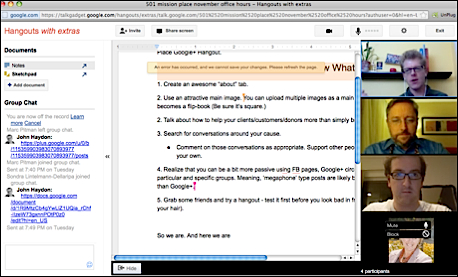 Order Chris Brogan's book
8Chris Brogan has written the definitive guide for businesses (and nonprofits) on using Google Plus: Google+ for Business: How Google's Social Network Changes Everything.
Share with us here in the Community how you feel about Google Plus business pages.
Are you using them?
Marissa Rogers
Community & Social Media Support

If you find my post helpful, and it answers your question, please mark it as an "Accepted Solution"


Message 1 of 1
(858 Views)